Although it seems simple, some people have a hard time with simple things….here are the most hilarious ice bucket challenges gone very, very wrong….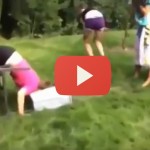 The ALS Ice Bucket Challenge is the latest trend to sweep the world, basically it requires people to dump a bucket of ice water over their head or donate $100 to ALS (http://www.alsa.org), then challenge 3 people to do the same within 24 hours.
It has become so popular that most of the biggest names in music, sports, movies, and politics have taken the challenge, including; Bill Gates, Justin Bieber, Oprah, Justin Timberlake, Jimmy Fallon, and pretty much everybody else.
UPDATE: #IceBucketFail is now trending because of this video.
Please share with your friends and tell them to support ALS
[facebook][tweet][digg][stumble][Google]
Comments
comments