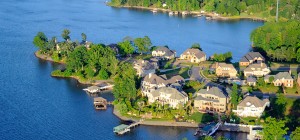 Lake Wylie has just topped the list for South Carolina's 'cities on the rise'. NerdWallet, an investment group, has just ranked all 91 communities in South Carolina with 5,000 or more residents, and Lake Wylie at first place, followed by Tega Cay at No. 2 and Fort Mill at No. 20. The rankings were based on each community's combined economic and population growth, specifically looking at  the growth of the working age population, percentage of employed residents and median income from 2009 to 2012.
Lake Wylie received a score of 80.71 is as far ahead of Tega Cay's second place score of 57.79 as Tega Cay is to Newberry's score of 35 at No. 39.
The census in 2010 indicated tremendous growth in Lake Wylie, Wood said. Since 2010, numerous home and apartment developments have been announced along S.C. 274 and in the past year, the number of restaurants in Lake Wylie nearly doubled.
NerdWallet paints an overall positive picture for all South Carolina communities, when compared to other states, hit hard by recession but recovering because of low taxes, increasing industry and an influx of residents.
Many local leaders think that the rankings reflect what many residents already know.
"We're always pleased to receive this kind of recognition, it validates what we already know to be fact, that Fort Mill is blessed as a very special place." commented Danny Funderburk, mayor of Fort Mill.
The Fort Mill designation only includes activity in the municipality, which doesn't account for residential growth that hasn't been annexed into the cityor business activity in places like Baxter.
Based on the data, and the recent companies that have been moving to the area, it seems as if the greater Rock Hill region will continue to improve.
Comments
comments