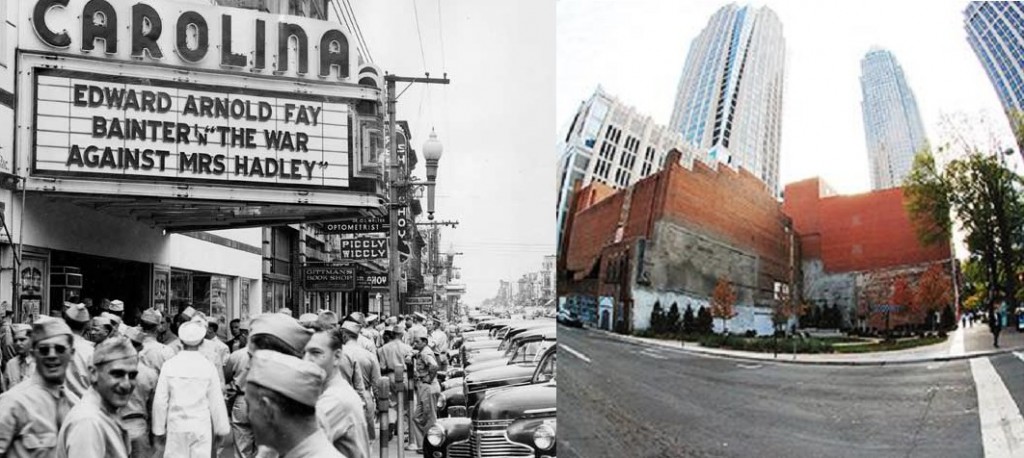 It's been about two years since the Foundation for The Carolinas purchased Charlotte's historic Carolina Theater at the corner of 6th st and Tryon st. and things are finally looking up after a recent donation of $8 million from the Belk family.
Under the terms of the sale, the foundation was given 10 years to completely finish renovations to the theater, which must be started by Dec. 31, 2018.
There are currently plans in place to build a $60 million specialty hotel on top of a new lobby, built on top of the recently completed 'pocket park'. The hotel is planned to be 10 floors and contain about 160 to 200 rooms. The new complex will now be named Belk Place, in honor of the gift from the families of Claudia Belk and the late John M. Belk, Charlotte's former mayor, and Katherine Belk and Thomas M. Belk.
In addition to the new lobby and hotel, the theater will be completely refurbished as a prominent civic meeting space for symposia, major speakers, discussions, and films.
The foundation plans to add three floors of office space above the lobby, providing expansion room for the foundation and possibly space for other nonprofit organizations. They hope to start construction on the theater restoration and lobby by the end of next year, with the new theater opening by the end of 2017.
The Carolina Theater officially closed in 1978, and the city acquired it in 1986. Various renovation plans fell flat until the foundation in 2012 offered to buy the 36,000-square-foot theater from the city of Charlotte for $1 million. They have since raised $20.7 million of its $35 million goal, with Bank of America giving $5 million earlier this year.
[facebook][tweet][digg][stumble][Google]
[one_third] [/one_third] [one_third] [/one_third] [one_third_last] [/one_third_last]
Comments
comments