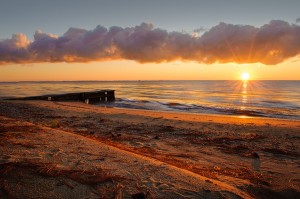 The total value of the Chesapeake Bay is currently estimated to be about $107 billion according to a new study by the Chesapeake Bay Foundation. The study also points out that it could be worth much more if the bay is cleaned up.
The new comprehensive report by the environmental advocacy group represents the first effort to quantify the value of the 200-mile-long bay, including the economic benefit that it adds to the region's air and water quality, recreation and tourism, farm and seafood production, property values and flood and hurricane protection.
"It's time to put aside the age-old debate of environment and the economy, they are two sides of the same coin." remarked William Baker, the foundation's president.
The economic value of the bay was greatest in Virginia, calculated to be about $41 billion, the value to Pennsylvania came in second at $32 billion.
The report found additional value in the bay of $22 billion a year, including $8 billion in Virginia, if efforts to clean it up succeed.
Baker called efforts to save the bay "a metaphor for achieving a high quality of life."
The report did not include the total cost to clean up the bay; foundation officials estimated that at $5 billion a year.
[facebook][tweet][digg][stumble][Google]
[one_third] [/one_third] [one_third] [/one_third] [one_third_last] [/one_third_last]
Comments
comments