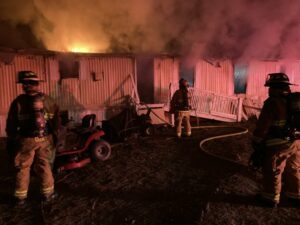 The Burton Fire District reported that a fire destroyed a Seabrook church early Sunday morning. Emergency services, including the Burton Fire District, Marine Corps Air Station Fire and Rescue, Beaufort County EMS, and the Beaufort County Sheriff's Office, responded to the blaze on Fieldfare Way around 1 am
Upon arrival, responders found the church, comprised of two joined mobile homes, ablaze, particularly at the rear of the structure. Despite quickly controlling the fire, it took over an hour to fully extinguish, significantly damaging the building. Fortunately, there were no injuries.
#BurtonFD & @bcsopio have started the investigation of this morning's fire on Fieldfare Rd in Seabrook @bftcountysc. The structure was being used as a church & was preparing for services in the morning. pic.twitter.com/16TygzXYHu

— BurtonFire_SC (@BurtonFD_SC) November 12, 2023
The church's maintenance worker informed officials that he had set up four portable heaters inside the church on Saturday night for Sunday services. An investigation by the Burton Fire District and the Sheriff's office concluded that the fire was caused by an overloaded extension cord used to power these heaters.
Following the incident, Burton Fire officials have issued a warning about the risks of using extension cords for permanent wiring or powering appliances for extended periods.
Comments
comments