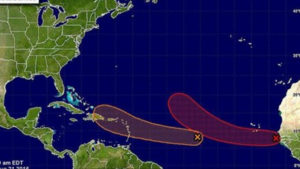 The city of Charleston and the rest of the low-country may soon need to be boarding up their windows and preparing for record flooding in the streets and low-lying areas.
2 major new storms have just formed off the coast of Africa and meteorologist are now saying that there's a possibility of at least one of them directly hitting the coast of South Carolina.
The first storm is now in the mid-Atlantic and is now barreling toward the Caribbean islands and Puerto Rico, with many models suggesting a southeastern coast landing.
"The storm should track close to Puerto Rico on Wednesday night, and affect Hispaniola and the Southeastern Bahamas by Thursday," commented meteorologists Jeff Masters and Bob Henson, of Weather Underground.
Once it reaches the Bahamas, it's predicted to turn into a class 3 or 4 hurricane and begin to head toward the southern US coast.
The storm behind, the one that just came off the African coast, was a strong monsoon that has the potentially of becoming a powerful hurricane, with a similar track.
The US National Hurricane Center is now recommending that all South Carolina low-country residents have their disaster emergency kits stocked and readily accessible.
Charleston's full hurricane season typically runs from mid-August into October, and peaks around Sept. 10.
Comments
comments