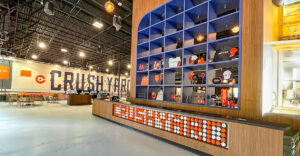 Charleston's first ever full-scale pickleball club, Crush Yard, just opened at 3365 S. Morgans Point Rd.
The sprawling 40,000-sqft facility offers eight indoor pickleball courts available for hourly reservations, featuring leagues, tournaments, lessons, and clinics.
They also have a full-service restaurant and bar serving American dishes, including vegetarian and gluten-free options, and a kids menu. The bar features 36 beers (26 local), 10 wines, and six seasonal cocktails.
It's now open daily 11 a.m.-11 p.m. for the public and 5 a.m.-11 p.m. for members.
Comments
comments