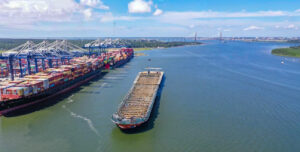 After investing over $3 billion in infrastructure, South Carolina Ports in Charleston is now positions to become the "preferred port" on the US East Coast, according to CEO Barbara Melvin.
During her recent State of the Port address, Melvin unveiled plans to upgrade the North Charleston Terminal, adding 2 million TEUs of capacity to the Port of Charleston.
After more than $3 billion in infrastructure investments, South Carolina Ports is positioned to be the "preferred port" on the U.S. East Coast, the leader of the leader of South Carolina Ports says. https://t.co/eAqhGa1y51

— Patrick Phillips | Live5News (@PatrickDotWeb) October 16, 2023
In addition to future plans, Melvin also discussed recent upgrades, including the deepening of the Cooper River and the replacement of the Don Holt Bridge.
A future barge operation is also planned for container transport between terminals, supported by $550 million in state funding. Additionally, SC Ports is expanding cargo capacity at Inland Port Greer.
In Charleston, the port, now the East Coast's deepest at 52 feet, has seen significant investments, including the modern Wando Welch Terminal with 15 ship-to-shore cranes and the Leatherman Terminal with a 700,000 TEU capacity.
Comments
comments