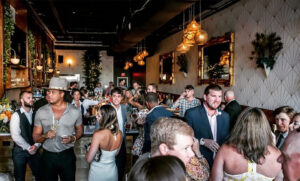 The Habit just unveiled its unique ambiance and culinary delights in Historic Downtown Charleston, situated at 213 East Bay Street in the French Quarter neighborhood.
Spanning 13,000 square feet across three floors and a rooftop lounge with a picturesque view of Charleston Harbor, it's a first-of-its-kind space in the Holy City.
Founded by local entrepreneur Michelle Van Jura, alongside business partner Zach Dennis, former general manager at High Cotton, and Executive Chef Matt Greene, previously with Hall Management Group, The Habit is their collective vision to offer a sophisticated venue that caters to the city's demographic and entertainment needs.
View this post on Instagram
Offering a blend of live music, dance parties, themed nights, burlesque shows, and comedy acts, The Habit aims to provide a distinctive blend of dining and entertainment to both locals and visitors. Its second floor VIP lounge, V's, along with the rooftop space, are open for private bookings and exclusive shows. Weekly themed nights featuring a variety of musical genres like jazz, 80s, yacht rock, and R&B ensure there's something for every music aficionado.
Regular themed nights like Motown Mondays and Disco '70s Thursdays, along with special events, are part of The Habit's engaging offerings, promising a lively atmosphere for its patrons.
Find out more info and all their events on The Habit's website here.
Comments
comments