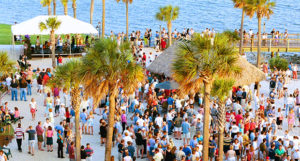 The summer of scorching heat made headlines across America, and Charleston experienced no exception to this trend.
According to the most recent regional climate report published by the National Oceanic and Atmospheric Administration on September 8th, South Carolina's largest city experienced its hottest August ever recorded.
In addition to Charleston, eight other cities in the Southeast also shattered their monthly heat records. These cities included Pensacola, Tallahassee, Daytona Beach, Orlando, Tampa, Miami, and Fort Myers in Florida, as well as Brunswick in Georgia and Mobile in Alabama. Notably, Mobile's heat wave surpassed records dating all the way back to the presidency of Ulysses S. Grant.
The weather is expected to stay warmer than usual for the rest of the Fall and into Winter in Charleston. If you're planning on spending an extended amount of time outside this week, make sure you wear breathable clothes and consider getting a small fan, personal air conditioner, or evaporative cooling towel.
Stay safe out there!
Comments
comments