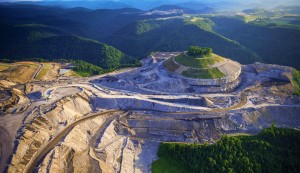 A cluster of coal mines just west of Bluefield and Beckley have just been sold to Coronado Coal for $174 million in one of the largest coal sales in West Virginian history. Cliffs Natural Resources Inc. was working on the deal for several months, and just announced the final sale today.
Lourenco Goncalves (recently appointed as CEO of Cliffs Natural Resources Inc.) commented that the sale of the Mingo Co. coal mines, which also included a huge tax benefit to the company from the state of West Virginia, clearly demonstrates our ability to execute complex transactions despite an adverse M&A (mergers & acquisitions) environment for commodity related transactions in the region.
He also remarked that the company will now be much more focused on supplying iron ore to the American steel industry. The goal over the next few years will to become on of America's largest iron ore mining companies.
The expected tax benefit associated with the transaction will be between 20 to 25 percent of the previously disclosed pre-tax loss of approximately $400 million. Officials are also expecting this purchase to add hundreds of new jobs to the area.
You can now browse all new job openings in the Bluefield region here.
[facebook][tweet][digg][stumble][Google]
[one_third] [/one_third] [one_third] [/one_third] [one_third_last] [/one_third_last]
Comments
comments