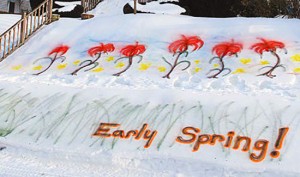 Local Bluefield resident Jeff Smiley of Pearl Street used several dozen cans of spray-paint to change his dull, snow-covered front lawn into a spring-time masterpiece. His true motivation was his wife, Kathy Smiley, who was tired of all the dreary snow, and was tired of all his stored paint cans.
The couple's friends, neighbors, and even complete strangers have been both shocked and thankful for the change of scenery in the Smiley's front yard.
People all over America, and even some on other parts of the world have been are expressing their thanks via social media and Emails. His posts to his social media accounts have shown up in Florida, California, Hawaii, the United Kingdom and even Australia.
Please share to make Bluefield even more famous!
[facebook][tweet][digg][stumble][Google]
[one_third] [/one_third] [one_third] [/one_third] [one_third_last] [/one_third_last]
Comments
comments