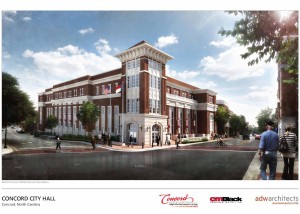 The local governments of Concord and Kannapolis are giving themselves a $44 million face lift, showing incredible optimism in a steadily growing economy.
The city of Concord is building their new City Hall, spending about $16 million, while Kannapolis is constructing a new municipal building and police station for a total of $28 million.
The new 75,000 square foot Concord city hall building is currently being constructed at the corner of Cabarrus Avenue and Market Street. The facility will consolidate most of Concord's administrative services, most of which currently function out of three Downtown buildings.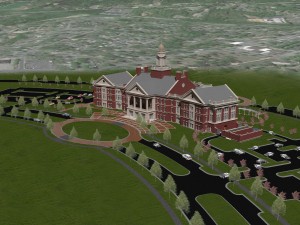 The current Concord municipal building at 26 Union Street has been in use since 1986 and the structure dates to 1950. City departments are also in the 1957 City Hall at 66 Union Street (now known as City Hall Annex) and the 1974 former police headquarters at 30 Market Street.
Kannapolis City Council will soon break ground on a new 100,000 square foot municipal center and police headquarters (pictured right). The building will be located at 401 Laureate Way on approximately 6.6 acres of land donated by North Carolina Research Campus founder David H. Murdock. The site faces the David H. Murdock Core Laboratory Building on the N.C. Research Campus. A number of administrative departments will be consolidated under one roof. The Police Department will occupy about 40% of the facility.
[facebook][tweet][digg][stumble][Google]
Comments
comments