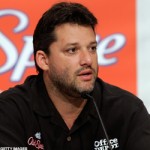 Moments ago a new release has been sent out about the future of Tony Stewart's 2014 season from Stewart-Haas Racing:
"Tony Stewart has decided not to compete in the NASCAR Sprint Cup Series event this weekend at Michigan International Speedway in Brooklyn.Veteran driver Jeff Burton, a winner of 21 Sprint Cup races, will pilot the No. 14 Mobil 1/Bass Pro Shops Chevrolet SS for Stewart-Haas Racing (SHR) in place of Stewart. This driver change pertains only to Michigan. Stewart's plans for upcoming Sprint Cup races have yet to be determined."
Tony then commented about the rest of the 2014 season;
[sociallocker]
On Thursday, a news conference with SHR executive vice president Brett Frood, SHR vice president of competition Greg Zipadelli and Burton announced what will become of the remainder of Tony's Steward's 2014 season.
Even though he had no wins and was outside the current cutout for the 16-driver field. He would have needed to qualify in the remaining four races and win one of them to make the playoff. NASCAR could make an exception.
In 2013, the three-time Sprint Cup champion missed the final 15 races of the season while he recovered from a broken right leg suffered in a sprint car crash. He required three surgeries and months of physical therapy to be able to get back in a car in time for February's Daytona 500.
At the end of today's news conference, SHR announced Stewart would sit out for the rest of the season.
[/sociallocker]
Comments
comments