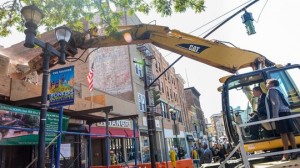 One of the most ambitious constructions projects in the recent history of Yonkers is currently underway – a new 20,000 square foot park in the heart of our city.
The city of Yonkers has just started the demolition of of 24 Warburton Ave., one of the last demolition projects to pave way for the Saw Mill River Daylighting – known as Mill Street Courtyard.
This new park will forever change the heart of historic Yonkers, completely transforming an inner city block into a pedestrian friendly open space. The park will feature Daylighting of the Saw Mill River which currently runs in an underground flume within the courtyard block.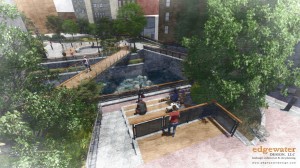 New paved walkways, landscaping, a central rain garden, and street furniture are planned for the space. The Saw Mill River will be uncovered as part of a spectacular water feature which will be crossed over by new vehicular and pedestrian bridges.
Once complete, Mill Street Courtyard will unearth over 100 feet of the buried Saw Mill River and give new life to a forgotten downtown.
[facebook][tweet][digg][stumble][Google]
[one_third] [/one_third] [one_third] [/one_third] [one_third_last] [/one_third_last]
Comments
comments