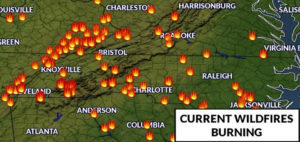 As the drought continues to linger in the South East, wildfires are now spreading throughout the Blue Ridge mountains, and now into the Bluefield, WV region.
Evacuations have even begun to take place in several sections of the Appalachians.
Emergency personnel are now going door-to-door to evacuate residents in Rutherford County, NC.
Dozens of parks, including the South Mountains State Park are now closed due to the fires.
Check this out! @NASA satellite image of wildfires in the SE from yesterday. That smoke will shift farther east today. #NASAWorldview pic.twitter.com/xlFT4cbLv9

— Keith Monday (@kmondayWSOC9) November 8, 2016
West Virginia firefighters are now expecting wind gusts of over 20mph today to push the fires even further.
Burn bans enacted until further notice – please help spread the word!
Comments
comments