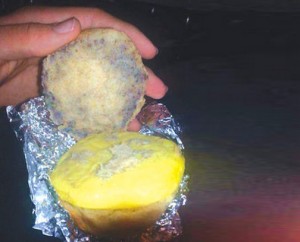 This past week, local Bluefield residents sat down to enjoy some lunch when they were greeted by a truly nasty surprise. When the biscuits were opened, the inside was covered in a bluish/green colored substance.
The unlucky dining guests were the students of Bluefield Middle school, and there was a number of students who received the discolored biscuits.
One mother of a Bluefield Middle student provided photos to the Bluefield Daily Telegraph, describing the biscuit as being moldy in appearance.
It turns out that the biscuits' color was the result of a chemical reaction in their foil wrappers, at least, according to the officials at the school.
School officials also noted that it was not a food safety issue, but rather, it was simply a food quality issue.
[facebook][tweet][digg][stumble][Google]
[one_third] [/one_third] [one_third] [/one_third] [one_third_last] [/one_third_last]
Comments
comments