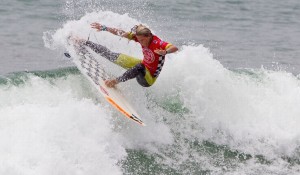 Surfers and surfing fans from around the world have been pouring in to what many affectionately call "Surf City U.S.A", the city of Huntington Beach, part of the LA metro region.
The festivities kick off tomorrow morning (7/26) where thousands of people are expected to converge for the nine-day competition.
The event has been significantly scaled back after violent riots broke out last year.
Dozens of people were arrested after last year's surfing event when fighting broke out in the Huntington Beach business district as throngs of people departed the beach. Windows were smashed, portable toilets were toppled and trash rained down on responding riot police from more than a dozen agencies.
To a drastic effort to avoid any hint of rioting this year, organizers and police have implemented the following changes:
No alcohol: No beer or other alcoholic beverages will be sold at the event's concessions. The "vendor village" itself will also be smaller than in years past.
More fines: Fines for open alcohol have been doubled to $250.
Limited music: The bands and live music that serenaded visitors and competitors alike in previous years will no longer be present.
Increased security: More police on horseback and bikes will be on hand; an expanded system of surveillance cameras has been installed. And bags, coolers and backpacks will be searched.
In the face of these changes, fans and surfers don't seem to be deterred in the slightest. The marquee competitions will be what most people will be focused on, and many are expecting an even better show this year including surfing, skateboarding.
"Our promise was to bring sports back as the main focus of the U.S. Open of Surfing, and we are on track for that, that has always been there, but the idea this year was to sharpen the focus." commented James Leitz, senior vice president of IMG.
The U.S. Open of Surfing this year comes at a key stage of the Men's Assn. of Surfing Professionals qualification series and the Women's World Championship Tour. For the men, the ASP Prime event offers valuable points toward a top 10 ranking in the qualification series; for the women, the Open marks the halfway point of the WCT tour.
"I think the athletes we have coming here this year are fantastic, I believe we have the best female surfers coming to Huntington and over 60 or 70% of the best male surfers in the world…" remarked Leitz.
Comments
comments