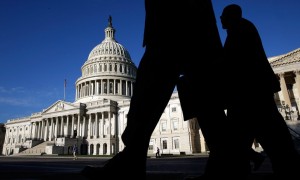 Congress will vote this week on a $1.1 trillion spending plan that would avert a U.S. government shutdown as Democrats agreed to roll back rules affecting banks, clean water and rest for truckers.
The House will vote on the plan tomorrow, Speaker John Boehner told reporters today. The Ohio Republican said he looks "forward to it passing with bipartisan majorities in the House and the Senate in the coming days."
The deal was announced late yesterday after Democrats accepted Republican demands to ease regulations including the banking provision, a significant victory for big banks. It lets JPMorgan Chase & Co. (JPM:US), Citigroup Inc. (C:US) and other lenders keep swaps trading in units with federal backstops.
The measure is a compromise "that can and should have wide bipartisan support," House Appropriations Chairman Hal Rogers, a Kentucky Republican, said in a statement yesterday. "Passage of this bill will show our people that we can and will govern responsibly."
While Democrats aren't pleased about the policy changes, they said they beat back dozens of other provisions that Republicans had sought in the measure.
"This agreement means no government shutdown and no government on autopilot," said Senate Appropriations Chair Barbara Mikulski of Maryland, a Democrat who negotiated the plan with Rogers.
Comments
comments