A window washer just fell from an 11-story building directly onto a moving car in downtown San Francisco Friday morning.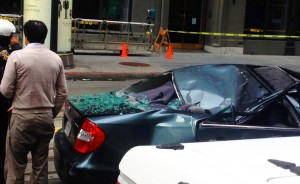 Two washers were adjusting their cables before beginning their day. They were on the roof with their platform still sitting on the ground. One of the men took a misstep, slipped and fell 11 stories onto Mohammad Alcozai's Toyota Camry, completely caving in the back part of the roof.
Alcozai said he heard a loud crash, felt a jolting impact, and immediately stopped, assuming he had hit a biker or pedestrian. As he stepped out of his car, he immediately saw the victim on the ground, shaking, completely disoriented, but miraculously alive.
"It was scary for me, but thank God he is alive. I will pray for him. Hopefully he will make it," Alcozai commented to reporters.
The accident victim was rushed to San Francisco General Hospital. The victim was conscious when he was transported and it is now rumored that he only suffered a fractured arm, and some internal trauma.
[facebook][tweet][digg][stumble][Google]
Comments
comments