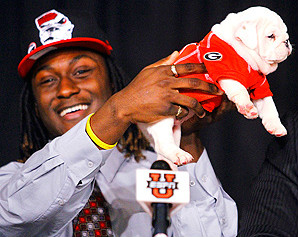 By 
Marc Weiszer
 – See full story here –
Augusta Chronicle
Morris News Service
ATHENS, Ga. — Months and months of road trips, camps, evaluations, film study, home visits, text messages and sweet talk have led to the moment of truth for college football recruiters.At Georgia, all that hard work will pay off when signed letters of intent from top prospects begin to roll out of the fax machine starting at 7 a.m today in the program's recruiting department.
"We've tested it once, we've tested it twice," said Daryl Jones, Georgia's director of on-campus recruiting. "We'll wind up testing it before we're expecting things. … It's like Christmas. I've got a tough time even at this age sleeping on Christmas morning knowing there are presents under that tree."
The biggest prize still out there for Georgia is five-star defensive end Lorenzo Carter, of Norcross, who the Bulldogs and their fans would love to see in the red and black.
Georgia begins the day with 18 known commitments after Florida safety Kendall Gant came off its list due to academic concerns. Gant will sign with Marshall.
On Tuesday evening, Georgia had the nation's No. 10 recruiting class by 247Sports and ESPN, No. 11 by Rivals.com and No. 13 by Scout.
Carter, also considering Florida, Florida State and Louisiana State, would be the finishing kick.
He's scheduled to make an announcement on ESPNU at about 3:30 p.m.
"If Lorenzo Carter decides to stay in Georgia, I think that will critical because he's an in-state player and he was recruited by Jeremy Pruitt at Florida State," ESPN national recruiting director Tom Luginbill said. "That's the big one. If they can pull that off, I think that's the one thing they probably really need to close this class out."
Most recruiting analysts have projected Carter to Georgia, including Luke Stampini of Florida's 247 sports site. He reported that Carter "will not be picking the Gators on NSD. UGA is the team that has been in the driver's seat and the team that will land his signature on Wednesday."
Comments
comments