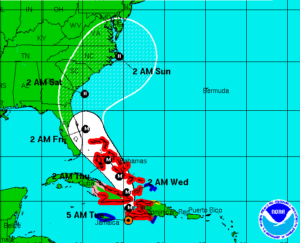 Hurricane Matthew just hit Haiti this morning as a Category 4 hurricane, leaving a wake of disaster behind. It's now heading straight for the southeastern coast of the US.
Meteorologists with the National Weather Service are now predicting landfall in the Charleston region late Friday night to early Saturday morning.
While its potential impact on the U.S. remained unclear, NBC News meteorologist Bill Karins has just suggested that the storm's path could be reminiscent of Hurricane Floyd in 1999 — which required the evacuation of 2.6 million people across five states.
As of this morning, Karins expected the storm could be a "major hurricane" from Florida all the way to North Carolina, though he noted the projected impact might fluctuate.
The US National Hurricane Center is recommending that South Carolina residents have their disaster emergency kits stocked and readily accessible in case of extended flash flooding or downed power lines.
They are saying that Hurricane Matthew now has the potential to be the most significant hurricane that has been seen in the Charleston area since Hugo.
UPDATE 7:00pm:
City officials have called a public meeting tonight at the Charleston County E.O.C building where they will be discussing the possibility of mandatory emergency evacuations for Charleston County.
UPDATE 11:00am (10/5/2016): 
South Carolina Governor Nikki Haley has just ordered the evacuation of 6 counties around the Charleston region – find out more here.
Comments
comments