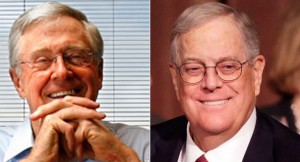 One of the most controversial conservative groups in history, based in Arlington, Va., raised and spent $250 million in 2012 to shape political and policy debate nationwide.
The almost uncontrollably powerful group, Freedom Partners, and its president, Marc Short, serve as an outlet for the ideas and funds of the mysterious Koch brothers, cutting checks as large as $63 million to groups promoting conservative causes, according to an IRS document to be filed shortly.
Even more shocking is what the IRS has just discovered;
[sociallocker]
The 38-page IRS filing amounts to the Rosetta Stone of the vast web of conservative groups — some prominent, some obscure — that spend time, money and resources to influence public debate, especially over Obamacare.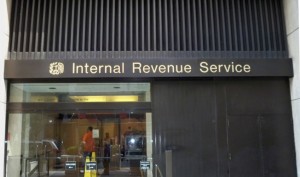 The group has about 200 donors, each paying at least $100,000 in annual dues. It raised $256 million in the year after its creation in November 2011, the document shows. And it made grants of $236 million — meaning a totally unknown group was the largest sugar daddy for conservative groups in the last election, second in total spending only to Karl Rove's American Crossroads and Crossroads GPS, which together spent about $300 million.
Short, a soft-spoken but ferociously conservative 43-year-old operative, provided us a draft of a forthcoming IRS filing that will soon be available to the public. Short, like most in the Koch empire, feels wealthy conservative activists such as Charles and David Koch get a bum rap from the media. So, Short wants to ease his groups and their cause out of the shadows.
"There's a mystery around us that makes an interesting story," Short said in an interview in his conference room. "There's also a vilification that happens that gets exaggerated when your opposition thinks you're secretive. Our members are proud to be part of [the organization]."
"The Koch's bid for a hostile takeover of the American democracy is calculated to make themselves even richer, yet, the Kochs and their Republican followers in Congress continue to assert that these hundreds of millions of dollars are free speech."
Republicans have countered that wealthy Americans shouldn't be castigated for attempting to exercise their First Amendment rights. They've also pointed out that the left has its share of wealthy supporters, such as Tom Steyer, the California billionaire financing a campaign to promote climate change issues this year.
"The First Amendment is about empowering the people, not the government," McConnell said in a statement. "The proposed amendment has it exactly backwards. It says that Congress and the states can pass whatever law they want abridging political speech — the speech that is at the very core of the First Amendment."
McConnell charges that the amendment is one more example of Democrats attempting to silence those who disagree with them. As further proof of this, he pointed to the misconduct at the IRS, when bureaucrats there targeted certain tax-exempt groups for extra scrutiny.
"When it comes to free speech, we shouldn't substitute the incumbent-protection desires of politicians for the protection the Constitution guarantees to all Americans," McConnell said in a statement, calling the proposed amendment "shockingly bad."
[/sociallocker]
Comments
comments