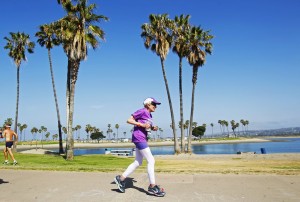 Most people make excuses to skip working out, too busy, too tired, in too much pain, too sick. If you are one of them, prepare for every reason to go out the window.
Meet the incredible Harriette Thompson.
She is a 91-year-old marathon runner who finished Sunday's San Diego Rock 'n' Roll Marathon in 7 hours, 7 minutes and 42 seconds, which is a new U.S. single age group record, reports Runner's World.
She recently suffered burns on her legs due to recent radiation treatments for squamous cell carcinoma. In addition to that, the temperatures were near 80 degrees along the Pacific during the marathon. In spite of all the obstacles , Thompson still finished in 7 hours, 7 minutes, 42 seconds. Her average pace (16 minutes, 20 seconds per mile) was faster than a typical healthy adult's normal walking speed. And she kept it up for 26.2 miles.
"It wasn't until around the 17th mile that I was going uphill and I was thinking, 'Oh, I wonder if I'm gonna make this,' " Thompson commented, "But the last few miles I didn't mind at all."
According to USA Track & Field, Thompson's performance set a new record for the fastest marathon ever run by a 90- to 94-year-old woman; the former mark was far slower – 8:53:08.
"I wasn't doing it to be competitive at all … that was just an added bonus," said Thompson, who recently completed a Memorial Day 5K in SouthPark with her husband, Sydnor, 90, a former N.C. Court of Appeals judge.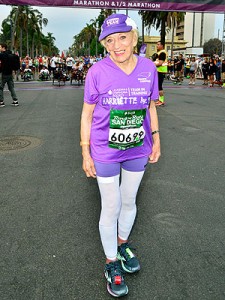 She is also a grandmother of 10 and was running in support of the Leukemia & Lymphoma Society for the N.C. chapter of Team In Training. This was her 15th time running the San Diego marathon in the past 16 years; her streak of 14 straight was broken last year because she was battling an oral cancer that took her upper jawbone and all but one of her upper teeth.
Her son Brenny, 55, ran alongside her Sunday, marking the fourth time he's joined her since she took up marathon running at age 76.
Before the race, she was given a special introduction by organizers and posed for photos with 2014 Boston Marathon winner Meb Keflezighi. Brenny Thompson said runners and spectators alike fervently cheered her on from start to finish.
"If Jack Nicholson had run the race with me, it wouldn't have (been as crazy). I had to almost be protective of her," said Brenny Thompson.
Thompson also humbly commented, "I can't believe how big a deal they're making over me. I felt like a queen for the day."
Runner's World has reported that Thompson is the only 91-year-old woman to ever complete a marathon. Gladys Burrill is the oldest woman to have accomplished the feat – she did it at age 92 in Honolulu in 2010, and her time was 2 hours, 45 minutes slower than Thompson's was on Sunday.
And don't bet on that record lasting a whole lot longer.
"If I'm still here next year, I think I'll probably be able to train better and be in better shape," said Thompson said, "If I'm able, I'll try again."
Comments
comments