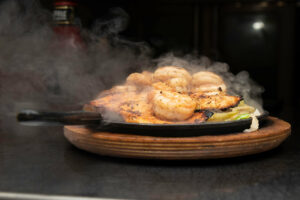 Charleston, get ready for a culinary journey to Latin America with a contemporary twist!
Raul Salazar and Alondra Ramirez, the dynamic duo behind Charleston's beloved Rio Chico, are set to unveil their latest gastronomic venture: La Minerva Cocina and Tequila. Nestled in the heart of North Charleston, this new dining spot is slated to open its doors in the Cedar Grove Commons shopping center on Dorchester Rd come spring 2024. With neighbors like First Watch, Chicken Salad Chick, and Buffalo Wild Wings, La Minerva promises to be a vibrant addition to the locale.
While La Minerva pays homage to the rich tapestry of traditional Mexican flavors, diners can expect a menu that's both innovative and upscale. The couple has collaborated with a renowned chef from Mexico, curating dishes that seamlessly blend tradition with modernity. And for those with a penchant for tequila, the restaurant is set to offer an array of handcrafted tequila cocktails, each with its unique flair.
Having successfully run Rio Chico for over a decade, with five bustling locations across Charleston, Salazar and Ramirez are no strangers to the city's culinary landscape. Their passion and expertise are evident, and La Minerva is poised to be another feather in their cap.
Mark your calendars, food enthusiasts – La Minerva's grand opening is set for April 2024.
Comments
comments