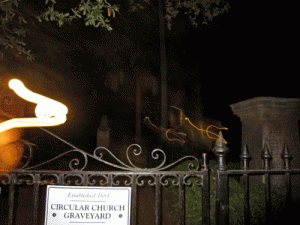 The annual Ghost Walk of Historic Pocahontas has just started with tours given each Friday evening and Saturday afternoon, as well as a "Monster Mash Costume Dance" this coming Saturday night, Oct. 25, in the Pocahontas Opera House.
"This is our third year for the event, the number of people attending has more than doubled each year. We had 11 our first year, 28 last year and 70 this year with most of them coming out for the Friday night tours. We had 54 people out for the night tours, but the weather was much warmer on Friday than on Saturday." commented Rodney Shortridge, founder and lead investigator of the paranormal society.
The tour visits Doctor Bowers' residence, the Butt Coffin factory, the Opera House, the Presbyterian Church, the Pocahontas Fuel Building, the Masonic Lodge, Jewish Synagogue, Emma Yates Library, the Crickett, and several other key spots around the historic town.
Some of the tour participates have even discovered light streaks in photos they took in the Pocahontas Fuel Building.
The costume dance party at the Opera House will be from 7 p.m. until midnight this coming Saturday — two live bands will be performing; the Fat Catz" and "Shogi" as well as a laser light show. There is a $5 cover charge and a $5 entry fee for the costume contest.
[facebook][tweet][digg][stumble][Google]
[one_third] [/one_third] [one_third] [/one_third] [one_third_last] [/one_third_last]
Comments
comments