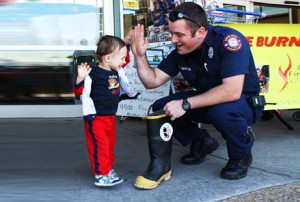 Local Louisville area firefighters have just raised over $5.6 million for children with special needs during this year's 62nd annual WHAS Crusade for Children. This year's total was the most amount ever raised in the history of the program.
The $5.6 million total will be able to directly affect about 200,000 children, many of whom live right here in our city. 100% of the funds will go directly to special needs schools, hospitals, and other organizations throughout Kentucky and Indiana.
The organization gives 100 percent of the money raised in grants directly to organizations — such as schools and hospitals — reaching a forecast total 200,000 children in all Kentucky counties and about 50 Indiana counties.
Since the program started back in 1954, the annual funds drive has raised well over $160 million for children with special needs throughout the two states.
Please share; 
[facebook][tweet][digg][stumble][Google]
[one_third]
[/one_third] [one_third] [/one_third] [one_third_last] [/one_third_last]
Comments
comments