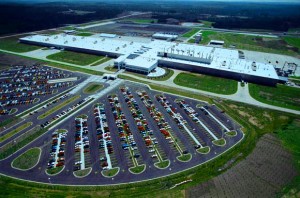 German luxury automaker Mercedes-Benz has just announced that it might be relocating its entire U.S. headquarters from New Jersey to Charlotte or another city in North Carolina. Mercedes-Benz USA currently occupies about 141,000 square feet of office space on about 37 acres and employs more than 500 workers in the small city of Montvale, N.J.
Their possible relocation is another example of the continued southward migration of the auto industry (as well as most other industries). The Southeast has become an emerging threat to the Midwest's domination as an auto industry hub, as Nissan, Toyota, Kia and Volkswagen put plants in low-cost, union-free Southern states, primarily in North Carolina, South Carolina, and Georgia.
The greater Charlotte region is an incredibly attractive site for corporate headquarters, with a globally connected airport, a deep pool of knowledge workers and a low cost of doing business. Another reason for considering Charlotte is that Mercedes-Benz USA's parent company, Germany-based Daimler AG, currently have 3 major divisions of it's Daimler Trucks operations in Mt. Holly, Gastonia and Ft. Mill, S.C.
City and state officials are currently working major incentive packages for Mercedes to beat out other states. When Toyota was considering a move here, North Carolina was prepared to offer them up to $107 million in a bid to try to bring their North American headquarters to Charlotte. We ultimately lost out to Texas, which offered less money but benefited from other factors, such as direct flights to Japan, the Observer has reported.
If you would like to browse all jobs now available in Charlotte click here.
[facebook][tweet][digg][stumble][Google]
Comments
comments