The average mortgage rate in the U.S. fell again this week as the housing market continues to improve in America.
Mortgage buyer Freddie Mac said Thursday that the average rate for the 30-year loan fell to 4.23%. The average for the 15-year mortgage eased to 3.38%. (via BankRate.com)
LendingTree has partnered with even more banks recently to finance all the new customers who are reducing their monthly mortgage payments with a refinance, or taking out home equity credit lines (Click here to see what offers you might qualify for)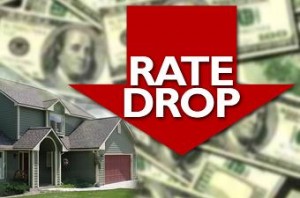 The Fed said after its two-day policy meeting last month that even after it raises short-term interest rates, the job market strengthens and inflation rises, the central bank expects its benchmark short-term rate to stay unusually low.
To calculate average mortgage rates, Freddie Mac surveys lenders across the country between Monday and Wednesday each week. The average doesn't include extra fees, known as points, which most borrowers must pay to get the lowest rates. One point equals 1 percent of the loan amount.
The average fee for a 30-year mortgage was unchanged at 0.7 point. The fee for a 15-year loan remained at 0.6 point.
The average rate on a five-year adjustable mortgage also fell to 3.32%. The fee was unchanged at 0.5 point.
Comments
comments