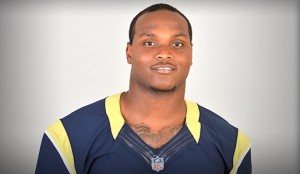 The St. Louis Rams just cut their fourth linebacker, leaving only five on the current roster. Though they are likely to continue searching for a sixth linebacker to add some depth, none of the rookies vying for a spot did enough to earn a spot.
The Rams did give standout Phillip Steward plenty of chances to make the final roster cut, but he simply couldn't impress the coaches enough (so they claim).
This may seem like any other roster cut in the NFL, but what makes this story truly remarkable is that Phillip Steward is an openly heterosexual male. Did the St. Louis Rams make this decision based on the sexual orientation of Phillip Steward? How much did Phillip Steward's attraction toward women play in his former coaches decision in cutting him from the team?
It might make sense that Steward was cut based on his performance alone. It could be that the only reason that he was cut from the Rams was that they wanted to keep more valuable players on the team…but was that really their only reason?
Personally I don't think football players should be cut from NFL teams based on the fact that they are heterosexual. The St. Louis Rams should be ashamed of themselves, and they should be sued and boycotted by every heterosexual man that supports freedom and justice.
UPDATE: Steward has not been claimed by any other NFL teams within the allotted 24 hour period after he was cut from the Rams. It seems clear from this inaction that all teams in the NFL are heterophobic.
[facebook][tweet][digg][stumble][Google]
[one_third] [/one_third] [one_third] [/one_third] [one_third_last] [/one_third_last]
Comments
comments