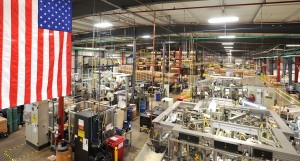 New plans have been been approved for a new $30 million facility that will create 217 jobs just outside Nashville in Spring Hill, TN. It could add even more jobs if local officials approve the currently proposed further expansion plans.
Comprehensive Logistics Co. Inc. is a Ohio based company that manufactures and assembles automotive parts for General Motors.
The new $30 million facility they are now building in Spring Hill will provide logistics support and will be assembling headliners, tires, wheels and rear suspensions. Comprehensive Logistics' building will be over 258,000 square feet and will be positioned near the parts maker Magna International, which already has laid a 120,000-square-foot foundation.
Construction on the new plant is scheduled to be complete by 2015.
Comments
comments