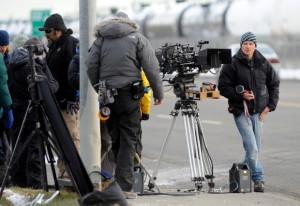 A new movie that was filmed in Saratoga Springs and which stars the legendary Tony Danza, makes its debut tomorrow at the Bow Tie Criterion Cinema in downtown Saratoga Springs.
The movie is a comedy/thriller entitled "Aftermath" that was filmed and produced locally by Tom Farone.
Movie-goers will quickly notice the Saratoga Race Course, Skidmore College, City Tavern, Broadway storefronts, Saratoga Springs Police Department, and several other locations around Saratoga Springs and the greater Albany region.
The movie features Tony Danza, Sean Penn's brother, Chris Penn; Lisbeth Rohm of Law & Order and Lilly Rabe, star of American Horror Story.
The Los Angeles Times remarked, "This intriguing thriller could be called blue collar-noir. With its clutch of shady characters, pitch dark humor and blunt talk, the film evokes such 1990s-era criminal outings as 'Fargo,' 'Reservoir Dogs' and 'True Romance,' but set in a world of home construction."
"Aftermath" will become available on iTunes, Netflix and video-on-demand on April 21.
Please share if you want more local movies;
[facebook][tweet][digg][stumble][Google]
[one_third] [/one_third] [one_third] [/one_third] [one_third_last] [/one_third_last]
Comments
comments