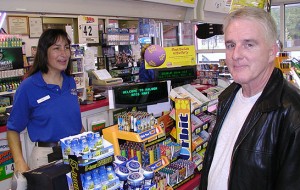 David Albee, a Norfolk, VA resident, has just received a $1 million check after entering the Virginia New Year's Millionaire Raffle.
He purchased 1 single ticket on January 1st at the 7-Eleven at 6900 North Military Highway.
"Disbelief and trying to take it all in. Wondering what you do to deserve something like this you know? Then you just kind of realize that you're just lucky," Albee remarked after receiving the check.
He purchased a total of 4 tickets for the New Year's Millionaire Raffle during different visits to a local 7-Eleven toward the end of 2014.
Albee will take home $710,000 in winnings after taxes.
[facebook][tweet][digg][stumble][Google]
[one_third] [/one_third] [one_third] [/one_third] [one_third_last] [/one_third_last]
Comments
comments