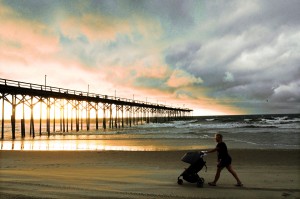 Yesterday the major threat from Hurricane Arthur disappeared completely from the North Carolina, and it barely left a scratch. State officials are now doing everything they can to try to bring scared tourists back to the beaches and islands.
The storm stirred up plenty of noise, but no serious injuries were reported from the earliest hurricanes in North Carolina's recorded history (breaking the previous record of July 11, 1901).
By Friday night, the storm had been downgraded to a Category 1 and prepared to take one last swipe at the East Coast.
Governor McCrory reported only sporadic damage along some coastal N.C. communities and beaches. "We are thankful that our visitors and citizens were kept safe during this storm." The governor then urged visitors and locals to come back.
"It will be a beautiful weekend, so get out and enjoy our beaches," commented the Governor.
McCrory said that the state's goal was to have the Bonner Bridge and N.C. 12 open by late Saturday, but Oregon Inlet was still too turbulent for a sonar boat crew to evaluate the bridge's footings.
The storm came at a very inopportune time, since many consider the fourth of July weekend to be the most important tourism week of the summer. But as the hurricane blew north, McCrory's campaigning seemed to be very effective in luring back tourists for July Fourth festivities. Hotels reported that some vacationers canceled reservations before the storm, but others arrived to take their place as Hurricane Arthur headed north.
"The umbrellas are going up as we speak, North Carolina beaches are open for business." declared Governor McCrory.
Comments
comments