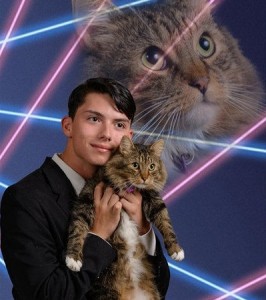 A high school student in upstate NY wants to be remembered for his deep love for cats and lasers. New York high school student Draven Rodriguez will be graduating from Schenectady High School this year and has started an online petition to let him use his laser cat photo as his senior picture.
On the petition he writes, "Hi all. This is my photo that should be going into the yearbook, but we know how finicky the school systems can be. I'm hoping that with enough signatures, my school simply can't turn this down."
The picture shows Rodriguez wearing a well tailored suit, holding a beautiful cat, with an epic laser show tastefully on display behind him. Apparently, Rodriguez was given permission to put the image in the yearbook, but was told he couldn't use it as his senior portrait (according to Albany's CBS 6)
As of Thursday evening, over 1,400 people have signed the petition, flying past his original goal of 500.
He's also gained support from a Jezebel writer who refers to Rodriguez as an American hero,"As a former teen who had a cat feature prominently in one of her senior portraits, I could not be any more pro-this," Jezebel News Editor Erin Gloria Ryan writes. "Let's make this happen."
Please help Draven by sharing this story!
[facebook][tweet][digg][stumble][Google]
Comments
comments