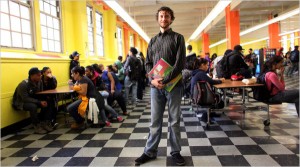 New York City Mayor Bill de Blasio's administration has just taken the first step toward meeting a campaign pledge that will turn at least 100 schools into community hubs, linking families to services such as health clinics, dental screenings, job training and parenting workshops.
This will happen through an unprecedented state grant in the amount of $52 million, to be paid over the course of 4 years from the NY Department of Education.
The community schools will offer services such as in-school mental health services, homework help and family counseling alongside classroom instruction.
De Blasio joined Schools Chancellor Carmen Farina, United Way officials and others to announce the grant at a school in the Bronx on Tuesday.
Schools will submit proposals over the summer to be included in the program and to determine the potential portion of the $52 million that they will receive.
Comments
comments