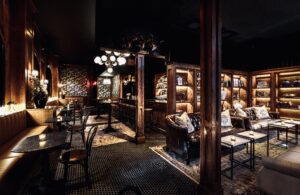 Republic Development & Management Group, a prominent South Carolina-based hospitality group renowned for its exceptional portfolio of luxury restaurants, lounges, and nightlife venues, has officially opened Lamar's Sporting Club, marking the debut of their premier sporting club concept, set to become one of Charleston's hottest nightlife destinations.
Tailored for clients who appreciate nightlife, sports, and exclusivity, Lamar's Sporting Club offers an intimate 2,000-square-foot lounge with a timeless and upscale ambiance including dark wood paneling, subdued lighting, and plush leather banquettes, sofas, and cocktail tables. The decor is a reflection of the sporting club lifestyle, incorporating carefully selected elements such as modern-vintage artwork, wildlife on display, and eclectic bookshelves, one of which provides a hidden entrance to neighboring Republic DMG-owned venue Bourbon N' Bubbles that guests can access.
Guests can enjoy handcrafted classic cocktails, including Lamar's Old Fashioned with Woodford Reserve Bourbon, brown sugar simple and bitters; Boulevardier with Elijah Craig small batch bourbon sweet vermouth and Campari; and Vesper with Bombay Sapphire gin, Grey Goose vodka, and Lillet Blanc, to name a few.
Lamar's Sporting Club maintains its exclusivity by offering reservation-only access to its vibrant nightlife experiences. Guests seeking to experience the sporting club element available to the public can make reservations by emailing, reservations@lamarssportingclub.com. The venue can be reserved for private events and buyouts, allowing guests to organize gatherings, celebrations or corporate meetings within the nightlife destination. Additionally, membership applications are now being accepted, with full details available at lamarssportingclub.com.
Lamar's Sporting Club serves up its reservation-only nightlife experience on Fridays and Saturdays from 8 p.m. to 2 a.m. Brunch is also available on Saturdays and Sundays beginning at 11 a.m. with no reservation required, for those looking to enjoy football season and their preferred weekend match-ups.
For more information on Republic DMG, the recent debut of Lamar's Sporting Club, and other venues, visit republic-dmg.com.
Comments
comments