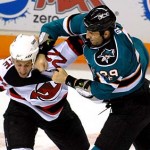 Today is the day! Expect something to break over next couple hours as the #SJSharks Ice for final 2 hours before trade deadline.
The NHL trade deadline is here, and one of the biggest names that is expected to still be available is New York Islanders left winger Thomas Vanek. While we wait to see whether or not Vanek will be moved, there are reports circulating that the San Jose Sharks are "aggressively" pursuing the forward.
NHL Trade Tracker
Player/Pick
Team
Story
Team
Player/Pick
 Hudson Fasching (prospect)
Details
 
Brayden McNabb
 Ales Hemsky
Details
2014 3rd rd
2015 5th rd
 Martin St. Louis
Details
Ryan Callahan
2015 1st rd
2014 2nd rd
Rostislav Klesla
Chris Brown
2014 4th rd
Martin Erat
John Mitchell
 2014 2nd rd
Details
 David Rundblad
Mathieu Brisebois
Jakub Markstrom
Shawn Matthias
Details
Roberto Luongo
Steven Anthony
 Andrew MacDonald
Details
2015 2nd rd
2014 3rd rd
 Stephane Robidas
Details
2014 4th rd
2014 2nd rd
2015 3rd rd
 
Details
 Viktor Fasth
 2014 4th rd
 
Details
Dustin Penner
Ilya Bryzgalov
Details
 2014 4th rd
Mike Weaver
Details
 2015 5th rd
It's NHL Trade Deadline day which means it's a national holiday for hockey fans all across North America. Names like Thomas Vanek, Matt Moulson and Ryan Kesler are just some of the players rumored to be on the move by the end of the day. Also, which teams are going to stock up for a playoff run; which are selling off players to invest in the future?
We will fill you in all day long with this live rumor and deal tracker that will be updated as we receive new information. NHL reporter Michael Straw will be live at First Niagara Center in Buffalo on Wednesday covering the events that happen throughout day. Be sure to follow along here as well as on Twitter @TheMikeStraw.
The most recent rumors appear at the top of the tracker. The further you scroll, the older the rumor is.
NHL Rumor Tracker
Player/Pick
Team(s)
Rumor
 Multiple
 
A major deal could go down any minute
 Matt Moulson
 
Fansided has learned that Ottawa has submitted a revised offer for Moulson
 Drew Stafford
 
Add the Capitals to the teams interested in the former 30-goal scorer
 Tim Thomas
 
The Panthers are reportedly close to sending the goaltender to Pittsburgh
 Ryan Kesler
 
GM Mike Gillis has been given permission from ownership to trade Kesler
 Thomas Vanek
Chris Botta reports that the Canadiens could be in on the pending UFA
Andrej Meszaros
The Flyers are close to dealing the defenseman
 N/A
 
The Kings reportedly have an offer into Buffalo that doesn't include Matt Moulson. No players are currently known
Mark Stuart
The Jets have reportedly told teams that he will not be moved. They are working on an extension with the defensman
 Paul Stastny
 
Toronto is putting together an offer for the Colorado center that is centered around Tyler Bozak
 Martin St. Louis
 
The Rangers have made an official offer to Tampa for their captain. Ball is in the Lightning's court. A deal appears to be close
 Ales Hemsky
 
Should the Senators miss out on Matt Moulson, look for Ottawa to make a run at Hemsky
 Drew Stafford
 
Michael Russo of the Star Tribune reports the Wild are interested in the power forward
 Cam Ward
The Hurricanes have recalled G Justin Peters which could be a sign that Cam Ward could be on the move soon
 Chris Stewart
  
Ottawa is still high on acquiring the power forward, but Buffalo's price is said to be too high for their liking. Sabres GM Tim Murray has no issues with holding onto Stewart until the summer or next deadline
 Martin Brodeur
After starting for them last night, Brodeur has told the Devils to trade him. Right now the interest appears to be low
 Ryan Kesler
The Penguins are pushing hard to acquire the USA Olympian. GM Ray Shero has been given the green light to grab him
 Rene Bourque
The power forward has reportedly asked for a trade out of Montreal
 Mike Cammalleri
The Fourth Period reports Flames are close to dealing the forward
Christian Ehrhoff
  
The Red Wings are pushing hard for the top-par defenseman. Buffalo's asking price according to FS sources is a top-level prospect and a 1st round pick
Thomas Vanek
  
Reports are surfacing that Vanek to the Sharks could happen tonight
Martin Erat
 
TSN reports the two teams are close to working out a deal for the disgruntled forward
Ryan Kesler
Anaheim appears out of the Thomas Vanek sweeps, and have now turned its attention to Ryan Kesler of the Canucks
 Tim Thomas
After Florida traded for Roberto Luongo, Tim Thomas could be out the door. CBC's Elliote Friedman reports that FLA GM Dave Tallon will ask Thomas what he wants to do.
 Marion Gaborik
Gaborik is on the ice for Columbus' game against Dallas. The Jackets are rumored to be talking to Boston about the forward.
 Thomas Vanek
Vanek is not in the Islanders lineup tonight for their game against Winnipeg. A deal is expected to come soon. Boston, Anaheim and Pittsburgh are interested in the scorer.
 Devin Setoguchi, Tyler Kennedy, Chris Thorburn, James Sheppard
 
According to TSN, the talks between the two teams have expanded to included more players
 Jaroslav Halak
   
The Sabres are talking to both Washington and Philadelphia about the goaltender.
 Devin Setoguchi
 
The two teams are in talks to send Setoguchi back for a second run with the Sharks.
Who do you think has the best shot?
Comments
comments