A local Charlotte group called 'Widen I77' is standing in opposition to new projected toll lanes on I-77, which they say could cost as much as $20 for a round trip between Mooresville and Charlotte. They cited N.C. Department of Transportation projections showing the initial toll rates during rush hour could reach $9 in the morning and at least $11 in the afternoon between Mooresville and Charlotte. Widen I77, who vocally oppose the proposed toll lanes, received the estimate after they sent in a public records request.
The group just filed a 12-count complaint in Mecklenburg County Superior Court. They argue that the project would violate state law by converting a stretch of an existing general purpose lane into a toll lane.
"This represents an economic catastrophe for the region," said Kurt Naas, a spokesman for the group.
The widening of 77, expected to finish in 2018, plans to add two toll lanes on northbound and southbound I-77 between Brookshire Freeway in Charlotte and Exit 28 in Cornelius. One toll lane would continue in each direction from Exit 28 to Exit 36.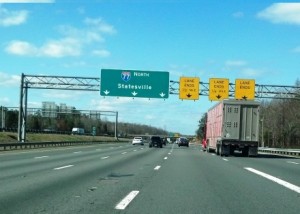 Cars with at least three occupants would be able to use the HOV lanes to avoid the tolls. The other lanes would remain free. If completed, they would be the first privately operated toll lanes in North Carolina.
Recent NCDOT documents even predict that Mooresville-to-Charlotte tolls will rise to $20 one way by 2035.
"The numbers just don't make sense. I don't see how it's a viable option, very few people use HOV (high-occupancy vehicle) lanes now, and they're free. What makes people think they will pay a toll that high to use them?" Huntersville Commissioner Danny Phillips commented.
NC State officials have recently remarked that the state needs to use a private company because it couldn't otherwise afford the project. The state expects to contribute $88 million toward the $655 million project, with Cintra paying the rest. In return, Cintra will receive toll revenues for 50 years.
Total estimated toll payments are expected to be $13 billion over the life of the state's 50-year contract with the company, according to documents.
Comments
comments