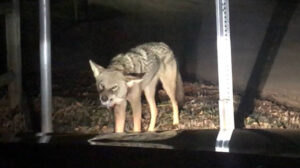 Coyote attacks on Sullivan Island have surged this month, leading to several unfortunate incidents, including the loss of a small dog.
The Town has just sent out an urgent warning to all residents to be on the lookout and to increase precautions regarding small dogs and children – especially at night.
"Coyotes will prey on domestic pets," said town administrator Andy Benke in a press release. "Pet predation is usually due to the territorial nature of the coyote and lack of an alternative prey base in suburban areas. Coyotes are very adaptable and can do well in urban areas."
The town is now ramping up trapping efforts, especially in the area where the dog vanished.
For your safety:
Always leash your pet until you're on the beach.
Never leave pets unattended.
Be extra cautious during early mornings and evenings.
Keep coyotes wary of humans through hazing.
Remove potential food sources around your home.
Secure household garbage.
Immediately report any coyote sightings to the Police Department at 843-743-7200.
Comments
comments