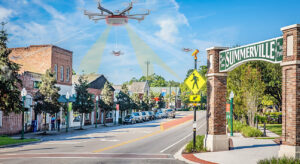 The Town of Summerville is preparing to launch an advanced drone program with multiple applications aimed at enhancing public safety and bolstering the town's geographic information system (GIS).
These new high-tech drones will serve the town in numerous capacities, including aiding in patrol operations to locate missing or fleeing individuals, assisting in SWAT or hostage situations, supporting forensic investigations, and conducting traffic pattern reviews.
Summerville follows in the footsteps of other Lowcountry entities such as the Charleston Fire Department, Charleston Police Department, and Mount Pleasant Police Department, which have already established their own successful drone programs. These drones offer an economical alternative to helicopters for various emergency agency tasks, including reconnaissance missions, package delivery, air alerts, and providing essential overhead views of hard to reach places.
The official inauguration of this program will be celebrated with a ribbon-cutting ceremony and live drone demonstrations on September 20th at the Press Box Pavilion in Gahagan Park.
Town of Summerville to utilize drones for public safety, GIS initiatives https://t.co/ub837ZJVe7

— Holy City Sinner (@HolyCitySinner) September 6, 2023
Comments
comments