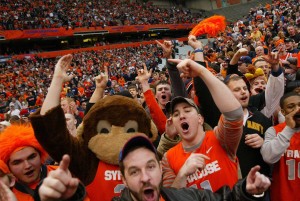 The official new party school rankings have been release by Princeton review, and there is now a new top dog in America: Syracuse University.
Typically large state schools have been named the biggest party schools, but Syracuse, a private university in New York, broke the mold when it took the No. 1 slot in Princeton Review's annual rankings.
Syracuse's student newspaper also ranked second best among the 379 colleges surveyed, and its sports scene, came in at third best in the nation – these likely helped the party mood.
Syracuse moved up from No. 5, to take down the University of Iowa, which took the runner-up slot this year. University of California-Santa Barbara moved to No. 3, and West Virginia University held on to fourth place.
Syracuse might be might be frozen for most of the school year, but with a crazy loyal basketball following and overly heated rivalries in the ACC, students find plenty of reasons to party during the cold months.
Iowa held on to a high ranking following their first time on top in a year that featured a viral sensation around "Vodka Samm." WVU, home of celebratory couch burning, fell even further from their No. 1 ranking in 2012 despite their best efforts.
UCSB also defeated some of the dominance by colleges in colder areas from the top of the Princeton Review party school ranking by holding on to its second place position.
Princeton's party school rankings are based on survey responses of 130,000 students at the schools. The party and sober school rankings are influenced by student answers to questions concerning the use of alcohol and drugs on their campuses, the number of hours they study each day and the popularity of the fraternity and sorority scene on campus.
Princeton Review published the lists in its annual guide, "The Best 379 Colleges – 2015 Edition." – Click Here For The Full List
Comments
comments