Beverly Hills has just recorded the highest-priced home sale in the history of the city. The record breaking home on Hillcrest Drive just sold for a cool $70 million to the founder of the Minecraft franchise.
Markus "Notch" Persson, beat out several other interested individuals you may have heard of, including Beyoncé and Jay-Z, but the Swedish billionaire won the bidding war for the home, as well as everything inside;
The sprawling estate and fully loaded home is truly one-of-a-kind, even for the 90210 zip code. In addition to all the architectural and technological features, it also has an extremely rare 360-degree view of LA and the surrounding estates.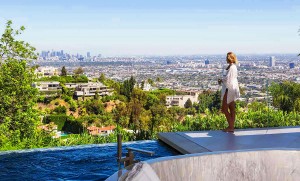 The home was recently finished by famed architect Bruce Makowsky, who also has a very popular handbag line sold on QVC.
Located at 1181 Hillcrest Drive, the house is certainly in a good neighborhood. Area residents include Jennifer Anniston, Ringo Star and formerly Elvis.
The home features a total of 15 custom toilets at $5,600 each; an 18-seat screening room with lizard-skin walls, a wall of onyx, iPad controlled fountains and a 54-foot curved-glass wall that slides open to an infinity pool that drops off into the L.A. Basin. Williams calls the mirrored subterranean garage a "garage-majal." One room features a wall made of every kind of candy in dispensers floor-to-cieling, a sweet way to charm one's guests.
It's the perfect 23,000 square foot bachelor pad.
The $70 million sale was listed by Ben Bacal of Rodeo Realty. Bacal sold the property to Bruce Makowsky during the market downturn for $12.8 million, but was convinced, he said, that the property was worth more. He represented both the buyer and the seller at the time.
If you're thinking about buying or selling a home, browse the best agents in your area at Realty For Life
Comments
comments