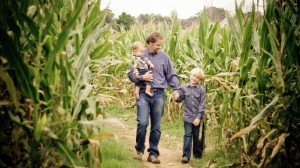 The largest corn maze in Tazwell County just opened this past weekend along U.S. Route 460 across the from the Crab Orchard Museum. There are currently 2 separate mazes visitors can choose from, a .3 mile maze in the shape of a double-headed bird man, and the big 1.5 mile maze shaped like a Native American man.
In order to keep people from becoming completely lost, stations have been placed throughout the mazes where explorers could check off their location by punching a hole in their maze map cards. Each punch is a different shape to foil anybody that might be tempted to cheat.
In addition to the larger mazes, a children's maze has also been made, fashioned from hay bales and a sandbox filled with corn seed. Hayrides are also available fore $2 for children 7-year-old and up, and free for children 6 years old and younger with an adult.
Open for eight weeks, the maze will be open from 10 a.m. to dark Friday and Saturday, and from 1 p.m. to dark on Sunday. Tickets are $10 for adults and $5 for children 7 to 12 years old. During the week, many local schools will come to visit the mazes.
Each weekend, there will also be "Punkin' Chunkin" competitions that will give out a $50 prize. Three pumpkins can be flung from a giant slingshot at a target in the field for $10.
There will also be a variety of games, shows, and other attractions at the corn maze and across the street at the Crab Orchard Museum.
Comments
comments