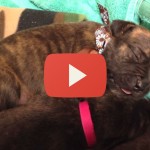 A bag full of rambunctious puppies were just discovered in a garbage bag near a gas station in Indian Land. This past week a man (who does not want to be named) showed up at the Indian Land Animal Hospital, holding a cardboard box housing four tiny baby puppies, the Herald Online reported.
The man was working near a gas station when he saw a black trash bag moving and whimpering. Inside, he found the puppies which were filthy,  and malnourished, but thankfully they were mostly healthy.
This sort of thing happens on a much more frequent basis than many people would like to believe. The staff at the Indian Land Animal Hospital were glad they're able to help – and that these puppies' appear to have a good future.
Comments
comments