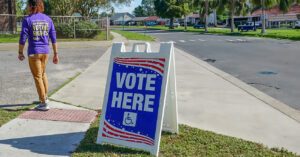 Today is election day across the country. Here in the Lowcountry, we have some significant races that will determine the future direction of our cities and towns, with most areas having mayoral and city council races.
Charleston residents are set to vote for a new mayor and, in odd-numbered districts, city council members today. This election is particularly notable for Johns Island, which will elect its first dedicated city council representative following recent redistricting.
Additionally, the ballot includes a $70 million bond referendum aimed at enhancing the city's parks, pools, playgrounds, trails, and recreational amenities. A Commissioner of Public Works will also be chosen by the voters.
Polls will be open today from 7 am to 7 pm – you'll be able to vote as long as you're standing in line at your assigned polling place by 7 pm.
South Carolina voters need to present a valid form of photo ID to vote including at least one of the following:
SC Driver's License
SC DMV ID Card
SC Voter Registration Card
Federal Military ID
US Passport
You can find your polling location and your sample ballot at SCVotes.gov.
Happy voting!
Comments
comments