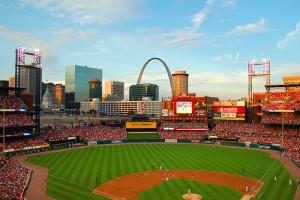 The Cardinals just witnessed an incredible eight-game winning streak, they're now 20-7, and they currently own the best record in baseball. If you don't like the Cardinals, it's probably because you're jealous of the best organization in the sport.
Here are the top 5 reasons everyone should love them;
#5 Kolten Wong
He might be one of the best players in the leauge, and he certainly should be starting the All-Star Game this year. He can do a little of everything, has tons of energy, lightning reflexes, and early in his career, seems to have the knack for consistent big hits.
#4 Matt Carpenter
A former 13th-round pick, a fifth-year senior from TCU, and a player who was picked up for a measly $1,000. He's now one of the best players in the game, hitting .333 with five home runs and 14 doubles.
#3 The bullpen
This year our bullpen seems to be unstoppable, with an incredible 1.44 ERA – one of the lowest ERA in the majors. In addition to the ridiculous talent that most players in the bullpen have, Mitch Harris is the first Naval Academy player in the majors since 1921, therefor, if you don't like the Cardinals bullpen, you don't like America.
#2 The Fans
The St. Louis Cardinals have the best fans in baseball, this is a scientific fact.
#1 The Determination
The Cardinals keep coming – relentless and unforgiving. They never care what critiques say, and they never feel pity, or remorse, or fear for any other team.
Please share if you love the Cardinals! 
[facebook][tweet][digg][stumble][Google]
[one_third]
[/one_third] [one_third]
 [/one_third] [one_third_last]
 [/one_third_last]
Comments
comments