Never test the depth of water with both feet. 
Some people just can't help jumping into a puddle after a spring rain or exploring a flooded area with some friends. Those things usually seem fairly harmless…but things don't always go as planned. The following viral video shows some of the greatest puddle jumping fails in history…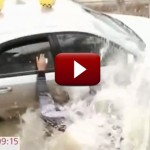 The moral of the story is to never trust water. It may seem harmless, it might look safe, but puddles are not something that should be messed with. They are hungry and they will stop at nothing to take as many people down as they possibly can!
Comments
comments