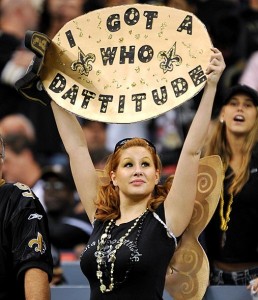 WHO DAT nation just received a major plug from Forbes Magazine. The New Orleans Saints players and coaches have always commented about the incredible Saint's fan base, and everyone knows how well the Saints play at home in the Mercedes-Benz Superdome. According to market researchers Nielsen Scarborough, the Saint's fan base is officially the third best in the NFL…but I think you'd have a hard time convincing anyone in the WHO DAT nation that they are anything less than the best.
The ranking are based on five criteria: hometown crowd reach (defined by Nielsen Scarborough as a percentage of the metropolitan area population that watched, attended, and/or listened to a game in the last year), 3 years worth of television ratings (per Nielsen), 3 years of stadium attendance based on capacity reached, 3 years worth of merchandise sales (per NFLShop.com), and social media reach (a combination of Facebook likes and Twitter TWTR +1.93% followers based on the team's metro area population).
The Green Bay Packers fans scored the highest marks in all categories but TV rankings where it came in 2nd and in merchandise where they came in 7th, (because those ubiquitous cheesehead hats are excluded from tallies since they are not NFL licensed merchandise). Of course some of this can be attributed to the fact that the team sits in the smallest market with a metro area population of 306,241 with zero competing sports interests. But then again the team has 4.4 million Facebook fans and over 701,000 Twitter followers. Clearly its fandom extends beyond Green Bay; members on Packer Backer live across the country.
The top 6 teams on the list list of the best fans also demonstrated their fans reach beyond their hometown crowd – the Dallas Cowboys (tied No. 7), Denver Broncos (ranked No. 2), Indianapolis Colts (No. 6), New England Patriots (No. 4), New Orleans Saints (No. 3), and Pittsburgh Steelers (tied at No. 7). All have social media followings that exceed their possible local fan base populations.
There was virtually no correlation between market size and ranking on the Forbe's list. The Chicago Bears, second in market size behind the New York Giants and New York Jets (neither which made our list) ranked No. 10. Additionally, our NFL Valuations had no bearing on the list and proved no correlation to the ranking either.
Let's help the Saint's fans become the greatest in the world – you can 'like'  The Saint's Official Facebook Fan Page here, or Buy Official Saint's Merchandise Here
Please share this article and tell everyone how awesome the Saints are! 
[facebook][tweet][digg][stumble][Google]
Comments
comments