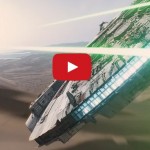 After Lucasfilm announced the ending of Star Wars' Expanded Universe on StarWars.com, it seemed like all hope was lost for Star Wars fans around the world. That hope has just returned with today's release of the newest Star Wars movie trailer, which is now ready to hit the big screens.
Perhaps the most exciting aspect of the trailer would be sight of the Millennium Falcon. It's the first time we've seen it since the "Return of the Jedi," and it was probably enough to send chills down the spine of many fans.
The most anticipated movie of all time will officially open on December 18, 2015 (sorry, I did say 2015).
[facebook][tweet][digg][stumble][Google]
Comments
comments